It's FINALLY almost time for my door to be ringing...we get LOTS of cute TRICK OR TREATERS.
 I love this-
 I love to be the one opening the doors and
seeing all the cute ones.
We have been having lots of our dinners on these cute "plastic" plates that I found at Target-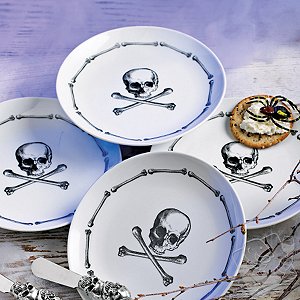 HAPPY HALLOWEEN to all of you!!!!
I wanted to mention that I got a comment on my last two posts from a "fake" poster. The comment was really mean and judgmental. PLEASE know that if you ask me NOT TO DELETE the comment than by all means USE your real name- and don't post through a fake email address. At least I can see that the "hate" comes from Lehi... so "BRITNEY" thanks for the positive love.
I believe that we should always take the high road and focus on the positive.
I will remind myself NOW....
JUST BE WHO YOU ARE-
HAPPY HALLOWEEN!!!!!